And , rolling into the last quarter of the year, shall we see what's on the list this time?
1. Summer sampler for my sister, add final border and quilt.
2. Glamp Stitchalot 2015 which is for me – add final border and quilt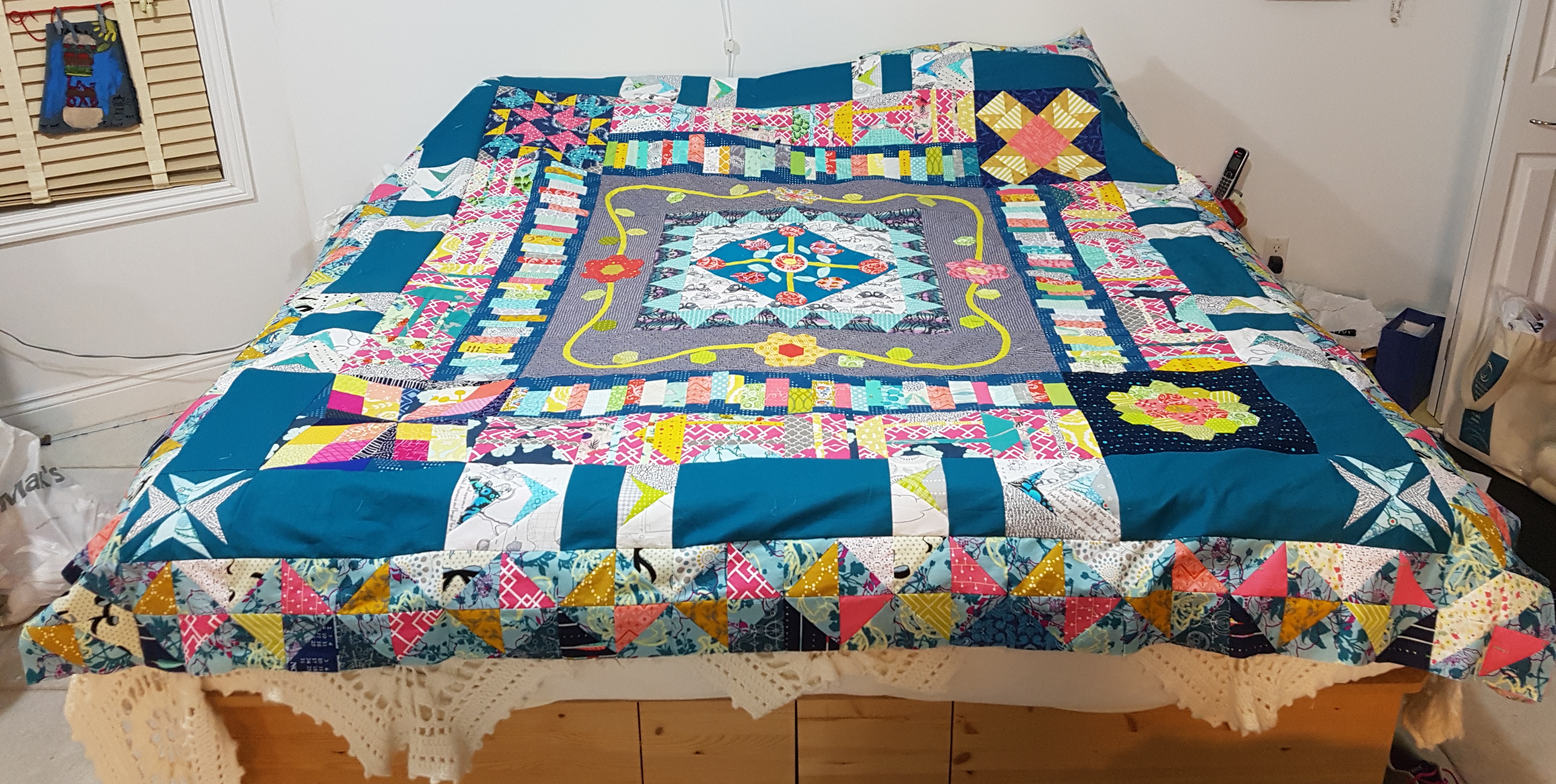 3. On Ringo Lake – finished in Q1
4. Beach Ball quilt #1 – fix that one section, sandwich, and quilt
5. Beach ball quilt #2 – determine layout, assemble, and quilt
(no picture — similar to above)
6. Jolly Christmas Quilt – needs assembly and quilting
7. Good Fortune – still being pieced then assemble and quilt
8. Pink improv pillow – finished in Q1
9. Sewing machine pillow – top made, quilt and finish
10. Weathervane bee quilt (from 2014!) – finished in Q3.
11. Quilt this applique quilt top for my niece ( made for her by a friend of my sister)
17. Triangles panel-tote bag or pillow, just needs to get done.
18. Kinship sampler (throw) from #100days100blocks2019.
19. Kinship sampler baby quilt.
20. Two black capes for the concert band
And non-quilting projects
12. Late lunch tunic – finished in Q1
13. Migration socks – Finished in Q3!
14. Summer dress
14b) Linen Skirt Finished!
14c) a quick pair of knit shorts for my daughter, Finished!
Listing the long term projects for completeness
15. Mandolin quilt – being assembled, not sure if I want to hand or machine quilt this
16. Starbright (hand quilting). I actually have only about 1/4 left.
Linking up to the global hosts for the 2019 finish a long! I may come back and add more photos but I need to get this post done.